RAGBRAI 2013 Information
Corrine Verschuure, PCC RAGBRAI Registration Contact
email: jcverschuure@iowatelecom.net
ph: 641-628-1562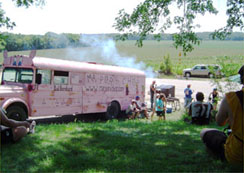 1. Everyone must register on the RAGBRAI web site by March 1.
If you are interested in joining our club on RAGBRAI, please contact our coordinators, listed above, for details for registration on the RAGBRAI site.
Note: you must be a current member to sign up for RAGBRAI with the Pella Cycling Club (PCC). Print membership application and club waiver. Send completed membership paperwork and fees to Corrine Verschuure, or include with your RAGBRAI fees (see below).
Print a RAGBRAI waiver.
Send RAGBRAI registration fees, and PCC fees to Corinne Verschuure by

March 1

. See RAGBRAI Fee Calculator form to determine total cost.
July 1: No refunds for PCC fees if you cannot make the ride. There will be no refunds for RAGBRAI fees after March 1. You must sell RAGBRAI passes on your own, absolutely, positively.
Join us for RAGBRAI
What is it?
RAGBRAI®, The Register's Annual Great Bicycle Ride Across Iowa, is an annual seven-day bicycle ride across the state. RAGBRAI is the longest, largest and oldest touring bicycle ride in the world. If you haven't experienced it, you've missed out on the biggest and best ride in the United States. Trust us on this! Each year, the Pella Cycling Club organizes a team of riders and the necessary support for this epic event. If you want to learn more about RAGBRAI, check out the official RAGBRAI web site: www.ragbrai.com
Why Ride with the Pella Cycling Club?
Support Personnel - at least three dedicated support people to secure overnight locations, provide directions, stock refreshments and munchies, set up site, and other general support functions to make your RAGBRAI experience as pleasant as possible.
Support Vehicles:
Club-owned and operated Official Support Vehicle: A custom modified school bus with special features such as bulk baggage storage area, kitchen sink with faucet, 170 gal. heated water tank, fold down shower platform, two shower stalls with pressurized water and changing area, awning, and bicycle storage.
Privately-owned vehicle: "scout vehicle" for RAGBRAI coordinator to secure great overnight sites in RAGBRAI host towns, before the main convoy arrives!
Reasonable rates - you get all of the above for just $230 (PCC fees), all week! Depending on your circumstances for travel, it could be less see the cost breakdown on the RAGBRAI calculator form.
Large enough to be taken seriously, small enough to be friendly! The Pella Cycling Club has a reputation of quality fun! We're constantly thinking about ways to improve and make your experience better. That's why our Support Vehicles are such valuable assets we have dedicated, knowledgeable members who give their time, expertise and resources to do things right. But we're just the right size to get to know you, and have you get to know us! There's room and respect for your individuality, while graciously accepting you as an important and valuable member of the team. With the wide variety of abilities, interests, and personalities in our club, you'll be sure to find someone as a riding, conversation, or social partner!
We're well-organized We've been doing this long enough that we know a few tricks. It must be working, because we keep growing. We continue to break our own records for membership and RAGBRAI participation. We might even have a few tricks up our sleeves for this year! But of course, you won't know that unless you come along!
NOTE: We must limit the number of riders to 55 in order to provide the support listed above. Those who have ridden RAGBRAI with us before, or have been a member for three or more years, will be given first priority to join the team. It will be opened up to new members approximately mid-February. Feel free to contact our coordinators to put your name on our waiting list, as those on the list get the first option when adding new riders.