2013 Ride Calendar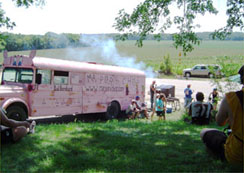 We carpool or travel to some of the rides sponsored by area clubs and organizations as a group. Contact Corrine Verschuure at jcverschuure@iowatelecom.net if interested in getting a group together for one of the rides.
February 21 - Club Meeting - Pella Corporation - 7:00 p.m.
Februrary 21 - Previous RAGBRAI riders and current active members priority RAGBRAI registration deadline – open to those on the wait list on February 22
March 1 – PCC RAGBRAI Deadline – ALL forms and payment must be received by this date
April 18 – Club Meeting – Pella Corporation – 7:00 p.m.
April 16 – Show'n'Go Ride every Tuesday evening at 6:00 until September. Starting September 6, until no longer able to get an evening ride in, we will start at 5:30 p.m. Volksweg Trailhead, University & W. 5th; ride the trail.
April 20 – Show'n'Go Ride (every Saturday morning at 7:30 until October). Volksweg Trailhead, University & W 5th; road ride to area towns. Mileage varies from 30 miles (early season) to 60 plus miles (training for RAGBRAI). Riders present will choose the route.
May 27 - Memorial Day Pancake Ride, a Pella Cycling Club tradition. Meet at Volksweg Trailhead in Pella at 7:30 a.m. and ride to Sully for breakfast at Sully Christian Grade School (18 miles, one-way). Various route options available for return ride. Riders present will choose the route.
June 6 – Bicycle Safety Rodeo at Thursday Nights in Pella – Southwest side of Tulip Toren
June 20 – Club Meeting – Pella Corporation – 7:00 p.m.
July 20-27 - RAGBRAI (Council Bluffs to Fort Madison)
August – Pella Cycling Club Picnic – Date and location TBD
September 7 - Tour de Rock, Pella. Sponsored by Pella Cycling Club. Sign-up at 8:30 a.m. in West Market Park. Ride starts at 9:00 a.m. to Pleasantville and back (60 miles). Lunch at Smokey Row in Pleasantville. Sag support available.
Interest in a High Trestle Trail Ride some Saturday?
Area rides you might be interested in:
Mayors Ride for Trails – April 20? – Des Moines
Marshmallo Ride – May 18 – Marshalltown (20, 60 and 100 mile ride options)
BRAMCO (Bicycle Ride Around Madison County) – June 8 - Winterset, IA
TOMRV – June 8-9 (Davenport to Dubuque and back)
MS 150 – June 22-23 (Urbandale to Ames and back)
Chariton Ride
There are many more - these are some that our club members have done in the past. Check Bike Iowa for rides in our area.